About us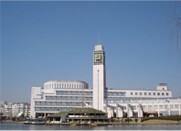 Anhui Foreign Economic and Trade Development Co., Ltd. approved by the Ministry of Commerce of China, is a comprehensive import and export enterprise since its establishment in 1992.With the management scopes as operating and deputizing various import and export business, sales of automobiles, foreign trade exhibition and further process of export products etc. and main import and export products as cereals, oils and foodstuffs, native and animal by-products, light industry products, arts and crafts, textiles and garments, machinery and equipment, tugs, motorcycles and spare parts, household electric appliance, chemical products, medicines and health protection products, hardware and tools, and minerals products etc., it possesses the registered trademark as "PENSTAR", "BOSTA", "ANYFAR" and "ANYFONG" etc., among which , "PENSTAR" with its earlier registration on more than 30 product series as light industry products, stationeries and etc., is assessed as "Anhui Famous Export Trademark", and registered in several countries and regions over the world. Because of the good quality, reasonable price and all-round after-sale services, the products with "PENSTAR" trademark become more and more popular.
With lush green wood and grass, convenient traffic and excellent working environment, the office mansion is located in the junction of Changjiang West Road & Science Avenue of High and New Technology Industrial Development Zone in Hefei.
We have a professional marketing & managing team, whose staff are young and bright, hard-working and industrious elite, excelling in international trade, uniting in good faith, sacrificing without complaints.
Affiliated to Anhui Foreign Trade Exhibition Centre, it possesses the perfect professional group of first-class decorating skills in the design of exhibition hall and exhibition stand. We have been working on the design and construction of exhibition hall, booth of Canton Fair, and other different fairs at home and abroad. Great fame has been gained and numerous exhibition affairs have been obtained for the overall services and perfect skills.
For the excellent technology and stable team, strict management and novel concepts, our cooperated factories are awarded as a "quality trustworthy enterprise" and always enter into business relations with foreign businessmen.
Enterprise spirit of "Credit, Innovation, High efficiency and Harmony" has been presented, principles of "Equality and mutual benefit, Sincere cooperating" has been stuck to and policy of "Treat customer as central character, Regard quality of products as existence way, Sustained improving and continuous developing" has been carried on since the establishment of the enterprise. Because of these, diversified management pattern with international trade as main aspect has been created and excellent cooperation relations with nearly 200 customers located in 50 countries over the world has been built up. Import and export amount was accumulated to several hundred million US dollars until the end of 2011.
The ISO 9001:2000 was passed in 2001, and in 2008, it is the first enterprise that has got the three management system certification (ISO9001:2000, ISO14000:2004, GB/T28001-2001 which means quality, environmental, professional health and safety management system) in Anhui province.